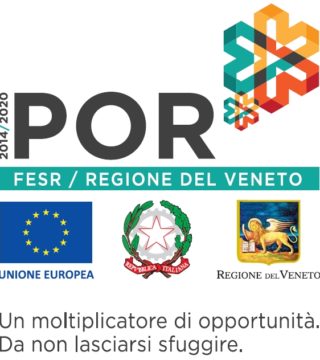 POR FESR 2014-2020 Regione Veneto – Anno 2017 Asse 1 Azione 1.1.4
Azione 1.1.4 "Support for R&D activities for the development of new sustainable technologies, new products and services"
Project: SISTEMI AVANZATI PER IL RECUPERO DEI RIFIUTI (acronimo SARR) – ADVANCED PROCESSES FOR WASTE RECOVERY
The Apllicant: VENETO GREEN CLUSTER (recognised by DGR n. 54 of 27/01/2017)
Main Objectives:
Create a collaborative platform for the development of the Veneto Green Cluster program;
Demonstrate the breadth of the areas of research and innovation that can potentially be addressed by the RIR, combaning information shared  in many national or international contexts, as a prerogative for any credible and systemic initiative in the sector;
Demonstrate with concrete and industrializable cases, how the research and development process finds synthesis in a proactive collaboration between Companies and Universities, verifiable with punctual and objective results, which must be achieved during the three-year of the project, then published and disseminated;
Scientifically validate, always through concrete and significant cases, the collaborative technological platform, with research projects of different level of "innovation".
Financial Support Granted: 2.640.145,87 € on a total eligible cost of 4.553.194,78 €.
Links: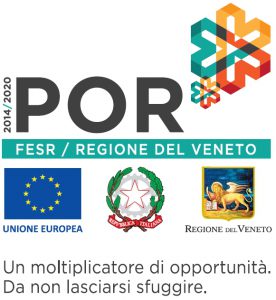 POR FESR 2014-2020 Regione Veneto – Anno 2017 Asse 1 Azione 1.1.2
Azione 1.1.2 "Support for the purchase of services for technological, strategic, organizational and commercial innovation"
Project: IMPLEMENTAZIONE DI IMBALLAGGI ATTIVI AD ALTA SOSTENIBILITÀ
SUSTAINABLE ACTIVE PACKAGING IMPLEMENTATION
Description: The innovative active packaging production process will be validated by antimicrobial efficiency tests at Aries srl. Aries srl can help Crossing to develop and validate its technology, patenting the process and then scale it up to industrial production (Smart Agrifood).
Aim: Validation of active packaging production methods through microbiological tests carried out by Aries srl.
Results: Microbiological tests have shown a complete block of S. aureus growth within 4 hours of analysis in samples treated with Nisina-NaCl.
Financial support granted: the project has been funded for € 7,500.00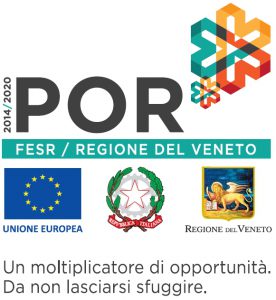 POR FESR 2014-2020 Regione Veneto – Anno 2017 Asse 1 Azione 1.1.1
Azione 1.1.1 "Support for the employment of researchers (Phd students and Master graduates with a technical-scientific profile) in the development of industrialization project"
Project: RICERCA INDUSTRIALE PER LO SVILUPPO DI NUOVI AGENTI CONCIANTI
INDUSTRIAL DEVELOPMENT OF NEW TANNING AGENTS
Financial support granted: € 36.375,00 on a total eligible cost of € 48.500,00.
Description: Industrial development of the production and use of new tanning agents has led to the introduction of an environmental and economical sustainable technology. With this innovative technology, tanneries are now able to produce "green" leather.
Aim: the main project objectives were:
• quality validation of process and product
• report of the critical issues for technological integration
• cost/benefit analysis report
Final results: This project has allowed us to consolidate some important aspects related to the production and use of our corporate products (ACL) for the tanning sector. Industrial research has confirmed the validity of this technology for the use of ACL as chrome substitute tanning agents. In particular, the use of ACL has been verified for different types of leather (sheep, cattle) and for different application sectors (clothing, automotive). The overall impact of the process has been validated from an environmental and economic sustainability point of view. Regarding this last aspect it emerged that, although the ACLs have higher costs than Chrome, ACLs can be reasonably compared to other commercial products such as synthetic or natural tannins. In all cases the process has a significantly lower environmental impact and  lower cost of managing industrial wastewater. In general, ACL technology, based on what was verified in these 12 months of the project, was found to be more economically sustainable compared to tannins and even to chrome. Therefore, innovation has taken on a totally revolutionary and high-impact aspect, until today there were no products with these characteristics on the market.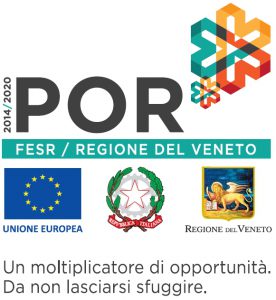 POR FESR 2014-2020 Regione Veneto – Anno 2016 Asse 1 Azione 1.4.1b
Azione 1.4.1b per il sostegno alla creazione e consolidamento di Start Up innovative ad alta intensità di applicazione di conoscenza e alle iniziative di Spin Off della Ricerca sub Azione B- Consolidamento Start Regione Veneto ID 10004342
Project: SVILUPPO DI NUOVI REAGENTI GREEN PER UN INDUSTRIA CONCIARIA SOSTENIBILE
DEVELOPMENT OF NEW GREEN REAGENTS FOR A SUSTAINABLE TANNING PROCESS
Aims are listed in the Crossing_Rollup2017_Porfesr document.
The consolidation project includes:
• "Know-how" development for ACL scales up production
• development of the protocol for tanning application.