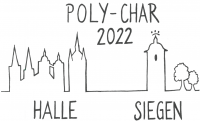 Poly-char 2022 – 22 – 25 May 2022
From 22 to 25 May 2022
Halle – Siegen
Online edition
Crossing interview: 25 May – 13.20
Crossing will be present also this year at the annual International Polymer Characterization Forum with a contribute dedicated to the Biomass Valorisation, exposing the latest results of the activities carried out under the LIFE I'M TAN project .
This year in addition to POLY-CHAR's traditional focus on Polymer synthesis, characterization and application, a particular focus of this conference will be laid on Circular economy of polymers and sustainable applications as well as Polymers for biomedical applications.
Our oral presentation is sheduled on 25 May at 1.20 PM.

For more information visit the website: www.life-imtan.eu
For more event information: poly-char2022.org