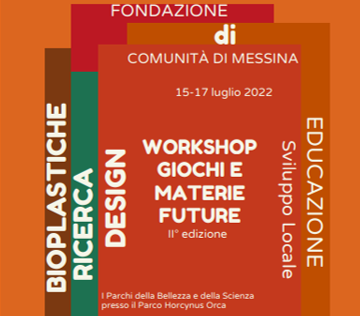 Workshop Giochi e Materie Future – 15 – 17 June 2022
15-17 giugno 2022
Parco Horcynus Orca
Messina
Event organized by the Messina Foundation, to which Crossing was invited  to present to stakeholders the first encouraging results on bioplastics obtained through extrusion processes between traditional bioplastics, oil pomace and waste threshers of the Messina brewery.
The new biomaterials, at competitive prices with the current plastics market, could contribute to the ecological transition on the territories.
The research was conducted by the Community Foundation in collaboration with Ecos-Med,  Crossing s.r.l. and  the Engineering Department of the University of Messina.
The first results are positive: mechanical, physicochemical and injection molding tests show that the material is of quality and suitable for various possible applications. In the former artisan area of ​​Roccavaldina, the Foundation is transforming two warehouses into a center inspired by Olivetti principles. The external shells will be redeveloped through the landart, while the pole as a whole will host: a research and training center, a FabLab and the first production plant for new bio-materials.
In a logic of pre- and redistributive economy, the Ecos-Med Social Cooperative, thanks to a co-financing from the Messina Community Foundation, the Con il Sud Foundation and the Social Initiatives Office of Banca Intesa, is implementing the first supply chain production, while scientific and technological research will continue also thanks to the European funds of the LIFE program.
For more information: download here the programme